Find out why Sharknado was most talked about TV movie in the US
It's so bad it's good. That is basically a five-word review of Sharknado 2: The Second One. 
When the sequel to the instant cult TV hit that first aired last year, people turned up in full force to watch sharks falling out of the sky to eat people. (If you still haven't figured it out, it's a portmanteau of the words 'Shark' and 'Tornado'.)
The flick starring has-been actress Tara Reid managed to reel in 3.9 million viewers.
What's more impressive? It was crowned the most social movie on TV ever. In fact, it even beat perennial favouite Game of Thrones.
Here are some of the show's best (and most head-scratching moments):
1. No one's certainly going to skip the weather segment if there were shark winds.
Hand severed by a shark? No problem. I'll just get a killer saw to replace it, says Tara Reid's character.
2. By the way, is that a wireless saw?
Yes, there's the shark in a plane problem.
But really? Flight attendants are allowed to have purple hair?
3. We need some semblance of reality, people!
4. Not only has Tara Reid written a book, she has the worst penmanship ever!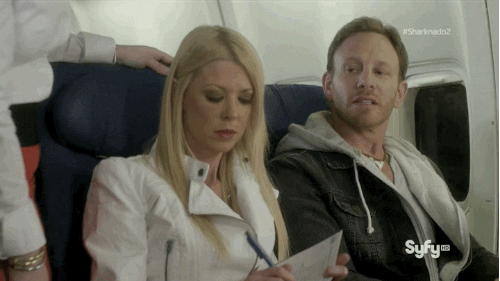 Of course, we can't talk about Sharknado 2 without giving you the best tweets. Don't they make the movie better anyway?
Sources: Buzzfeed, Vulture, Huffington Post, AFP