If only all stars were like this: Taylor Swift leaves uplifting comment on bullied fan's Instagram
Everyone knows Taylor Swift is a huge fan of social media - particularly Instagram - where she is always sharing cute snaps with her famous friends like Lorde and Karlie Kloss.
But non-swifties might not know that she also uses Instagram to personally get in touch with fans.
Two weeks ago, a fan named Hannah tagged the singer in a photo and wrote a caption of how she was being picked on.
Swift then saw the photo and sent an incredibly sincere, heartfelt message to her fan.
The singer has publicly talked about being bullied in school because of her love for country music before, and she made it clear to her fan that she knew how Hannah felt.
She said: "I hate thinking about your pretty face covered in tears, but I know why you're crying because I've been in your place. This isn't a high school thing or an age thing. It's a people thing. A life thing. It doesn't stop. It doesn't end or change."
Her advice? "If they don't like you for being yourself, be yourself even more."
She also said: "Let them keep living in the darkness and we'll keep waking in the sunlight."
This was the full comment: 
Do you suddenly feel like someone is cutting onions near you?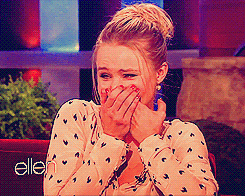 This is not Swift's first time playing Aunt Agony to fans.
In July, she left some advice to a fan on overcoming a heartbreak related to an unrequited love.
She said: "Feel good about being the kind of person who loves selflessly. I think someday you'll find someone who loves you in that exact same way."
Source: Time