'Pikachus' here, there and everywhere!
Help, it's the Pikachu army.
And their cuteness level is mind-blowing!
Thanks to the Pokemon franchise, ordinary mortals like you and me are about to get a cuteness overdose from the Pikachu Tairyou Hassei Chu, meaning "An Outbreak of Pikachus" event.
Announced a few weeks ago, the release of several teaser videos and advertisements upped the hype.
The event kicked off with more than 20 Pikachus parading around the Japanese town of Yokohama.
They skipped, they hugged and they waved at excited fans who came to see them in malls, parks, streets - basically any space they could squeeze into for a glimpse of these yellow rodents.
The Pikachu invasion event will carry on till August 17 in Minato Mirai, Yokohama.
So if you're in Japan during this time, go give Pikachu a big hug!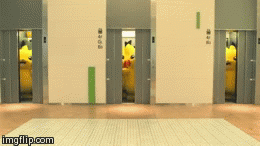 Photos: AFP, Rocketnews24
Sources: AFP, Rocketnews24