Taylor Swift's new single: 8 best moments from video (and yes, there's twerking)
After endlessly teasing fans with clues on her Instagram and Twitter, Taylor Swift finally announced the release of her new album 1989 that will be out Oct 27.
The 24-year-old crossover country star said that this will be her "first straight-up pop record" as she shakes off her country roots for the time being.
There was also a bonus for fans: The video for her ridiculously catchy earworm of a single Shake It Off.
Remember her awkward dancing at award shows?
Well, now she brings it up to the forefront as she takes on different personals including a cheerleader, a contemporary dancer and shows just how... awkward she can be.
At least she makes awkward adorable!
Check out some of the best moments from the video below. 
1) It's been a year since Miley brought twerking to the forefront but Swift shows that it doesn't come so easily to everyone (not that I've tried...)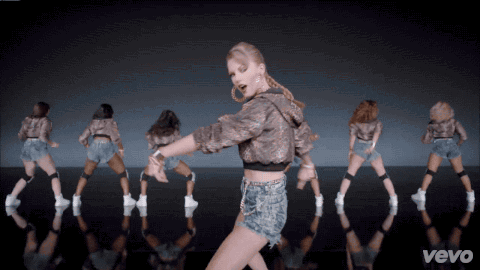 2. Taylor, there's a reason why you're on the bleachers and not the cheer captain.
3. Here's one person not to call for the sequel of Black Swan.
4. Okay, we have to admit she is looking pretty fly here.
5. So you think you can dance? Hmm, maybe not.
6. We don't even know what this is or which persona they are supposed to be. But if this takes over twerking, I won't be complaining.
7. Does this mean we can officially bring our Saturday Night fever moves to the clubs?
8. This is why fans love her. Swifties were flown out to Los Angeles to film this segment of the video and kudos to them for keeping it a secret.
Source: Tumblr, Giphy, Rolling Stone