Is this the cutest animal ever?
​Just look at that ball of fur! This must be the cutest animal ever.
Not quite sure what it is? It's okay. We weren't so sure either.
Ida is actually an English Angora rabbit that belongs to a retired professor at San Jose State University.
She goes around the country participating in shows with her rabbit.
These bunnies can grow up to 10 inches of fur. Compare this to the one inch of fur that a standard pet rabbit can grow.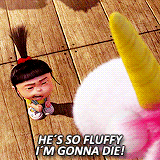 a
Sources: Metro, Mail Online