iPhone 6 screen looks indestructible
To everyone who's been looking forward to the new iPhone, especially you clumsy folks, here's some great news!
The iPhone 6 screen looks like it will be less likely to shatter - like your heart - if you were to ever drop it.
Popular technology reviewer Marques Brownlee managed to get his hands on what he says is the screen of the new iPhone.
There were talks about the new glass being thinner, more flexible and more durable than previous models, so Brownlee put those claims to the test by conducting several very tough experiments on them.
He first used a very sharp knife to create scratches, as well as to poke the screen.
He then decided to use a set of keys to scratch it like as though it were a Scratch and Win lottery ticket, but with way more force.
He moved on to attempting to snap the screen, to the point of almost bending it at a 90 degree angle.
Amazingly, nothing could destroy the pristine surface of the screen. 
The new screen is made with sapphire crystal - already being used for the 'home' button and camera lens.
"I slowly realized there is absolutely no way I can break this display under my own power," he said. "The worst blemish on the surface was actually my fingerprint marks and the dust from handling it so much."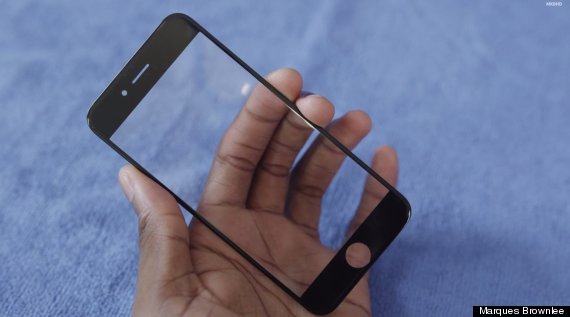 I guess this means we won't be seeing anymore cracked iPhone screens. 
Sources: Marques Brownlee/YouTube , Huffington Post