WATCH: The first woman to complete the American Ninja Warrior course
If you've ever watched Ninja Warrior, be it the American spin-off or the Japanese original, you'd know how extremely hard it is to complete the gruelling obstacle course.
For years, we've watched and laughed at many contestants (when we ourselves probably couldn't ever get past the first stage).
But for the first time in the history of this competition in the latest season of American Ninja Warrior (ANW), a woman managed to move on to the final round of the popular show.
Kacy Catanzaro, who's a former gymnast, shocked the world when she breezed through the difficult height-defying challenges despite being only 1.52m tall and weighing 45kg.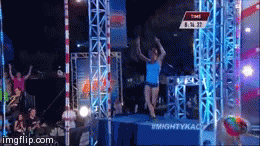 "I've seen greatness during my NFL career," said the show's host and former NFL defensive end Akbar Gbaja-Biamila. "And I've been in awe of people, but I am really in awe of Kacy."
"We are seeing one of the greatest competitors, man or woman, we have ever seen in America Ninja Warrior," added his co-host Matt Iseman.
Kacy, 24, effortlessly completed the last leg of the obstacle course and had the entire crowd cheering for her.
Her boyfriend and personal trainer Brent Steffensen, a popular contestant on previous seasons of the show, climbed up the ladder to meet her after she was done and they embraced.
If this doesn't inspire you to have more faith in yourself, then nothing will!
Source: Time, YouTube, Instagram