What made the boybands so popular in the 90s?
They had bad, product-laden hair. They had choruses you could never forget the lyrics to (and verses that you would struggle to recall).
There was always that member. The one who looked so ordinary that you could never fathom how they passed the audition – until you realised that they made the others look more handsome by comparison.
If that sounds familiar, you're probably a kid who grew up in the 80s and 90s following that era's boy bands.
And hey, 2015 is going to be a good year for you.
Backstreet Boys, Boyzone and Robbie Williams – who infamously split from Brit 90s boyband Take That – will be performing in Singapore this year.
Williams just announced his concert here, which will take place on Oct 4 at the Singapore Indoor Stadium as part of his Let Me Entertain You Tour.
Backstreet Boys will be here trying their hardest to perform those dance moves from 20 years ago on May 2. 
And Boyzone will stand in a row, swaying slightly for their concert on May 23. 
But while we can fight over which boyband member is our favourite, let's take the time to appreciate the lesser known factors that made these bands so successful.
1. Backstreet Boys' choreographer for adorably cheesy dance moves. 
There were the weird hand actions...
 What do these actions mean? Note that the gestures had no relation to the lyrics. The lyrics at this point were: "But I wish I could..."
Then there is their recurring theme of dancing in the rain, in open shirts. And by "recurring", we mean "at every available opportunity".
Is that Kevin checking out his own body? Yes, Kevin. A mix of baby oil and water does highlight every contour.
I'm not sure but he might even be checking out his own reflection in his shiny abs.
 And of course, falling on your knees at the climax of the song (or in some inexplicable cases, doing a jump split).
Yeah, yeah, boys. Your emotions... just pick a mood though. Two are anguished, one is leaping for joy?
2. Boyzone's costume artist - for trying to give them some form of personality.
They made the boys wear such ugly suits that it's now impossible to decide who the worst looking one is. 
3. Take That's video director for convincing the band go arty
Every so often a band would not just do a music video, they would use monochrome and metaphor to create ART.
(Okay, the art would have to wait until they looked up "metaphor" in the dictionary).
Silly? Pretentious? Maybe. But what would we do without this?
Are those folded pajama bottoms? Is this a yoga pose that my instructor hasn't taught me yet? So many questions...
And there's also this. WHY IS ROBBIE WILLIAMS CARRYING A ROCK?
And while I know Jason is meant to be the element of fire here (really!), is hugging a candle really the best representation?
Also, the baby oil budget on this shoot must have been huge.
Of course, the effect doesn't work on everyone. Hold it in, Gary.
4. Justin Timberlake's hair was N'sync's mane (pun intended) reason for success.
Hair that will always make me hungry for Maggi Mee.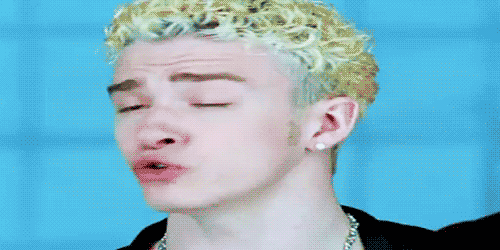 5. Westlife's walking
Clever ploy by the director here. Let the scenery be be more interesting than the band.
But Westlife could have been called Walklife. It felt like they went for a stroll in every video! 
They walk even when there's not much space to walk.
​6. A1's Ben Adams' perfectly centre-parted hair
More iconic than any of A1's songs. Go on, name one within the next five seconds.
No? Then the hair has it.