VIDEO: S'pore and M'sia food get pop song tribute
This article is more than 12 months old
Asian-American YouTube duo The Fung Bros have come up with a tribute to the food of Singapore and Malaysia - with not one, but two pop ditties.
As they should, because you know our food is the bomb.
The first part is set to the tune of MKTO's Classic while the second is set to Jason Derulo's Talk Dirty.
Some choice lines include "Been around the world, don't speak the language. It's either Singlish or Manglish. All i need to understand is - when - you - cook curry for me".
Released on Jul 14, the video already has already garnered over 51,000 views.
In the first part, the duo tries to dispel various tropes about straight-laced Singapore while at the same time pimping out the food that you can find in the region, namely curry, laksa, roti prata and char kway teow. 
Except that they pronounce char kway teow as char kway TOO. 
Guys, we love the video but it's char kway TEE-OW. 
They then move to the duo's house where they beg their Asian mum to cook some food for their friends who are coming over.
We're going to overlook her mispronouncing "wah lau" as "wah lah" and misusing the word "kiasu" mainly because the cute-as-a-button mum does this,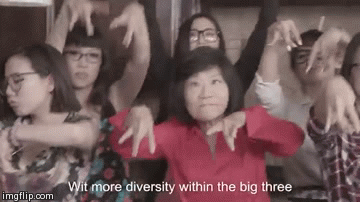 and this,
Brilliant.
Satay also makes an appearance in this video, although in a way that you would never have imagined (and we're sorry you won't be able to unsee this).
All in all, we're glad that our calorie-laden but delicious food got represented in the land of burgers and fries.
We are definitely going down to the nearest hawker centre after work to get us some of that delicious char kway TEE-OW.
Source: YouTube