When David Bowie met Adrian Pang: 'You were that gangster guy!'
This article is more than 12 months old
It was a meeting that shocked David Bowie. He probably was not expecting to meet his "co-star" from a "dreadful" movie.
When Bowie played in Singapore in 2004, The New Paper asked actor Adrian Pang (Bowie's "co-star") to try his hand at reviewing the gig, as well as going backstage to meet the legend himself.
Pang proved pretty adept at the writing gig. Bowie was surprised to say the least.
Adrian Pang and his wife Tracie Howitt at the David Bowie concert at Singapore Indoor Stadium in 2004 PHOTO: TNP FILE
This article was first published in The New Paper March 5, 2004
BY ADRIAN PANG
A shocked David Bowie remembers Adrian Pang, who once appeared in a 'dreadful' movie with him.
The last time I encountered David Bowie up close and even a little bit personal was in 1998 on a film set.
It was a movie about the Manchester underworld, called Everybody Loves Sunshine.
I was playing a character called Steven, a triad boss.
There was this big scene where my gang and I were having a dramatic showdown with another gang led by Goldie, the drum n' bass star.
Lots of shouting and swearing between Goldie and myself, a couple of guys get shot, and I hand over a briefcase full of money to Goldie's second-in-command, played by Bowie.
Or 'David', as he had asked to be addressed when he came over and introduced himself.
I told him he could call me anything he wanted, but I preferred 'Adrian'.
He spent the rest of the shoot calling me 'Andrew'.
In the movie (which was dreadful by the way), I get to wear Paul Smith suits, swear in Cantonese, fire a machine gun, and die a bloody death.
But my lasting impression of it is that I got to hand over a briefcase to Bowie. He even said 'thank you'.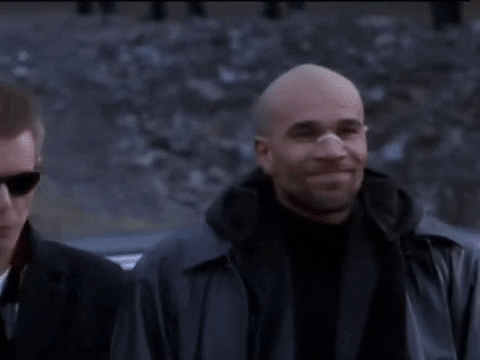 And yesterday, I got the chance to go to a post-concert meet-and-greet session with David. Dave. D.
We were the 'happy few' - 24 of Sony Music's chosen ones in a meet-and-greet after Bowie's Reality concert at the Singapore Indoor Stadium.
As he entered the room in a casual Scary Monsters T-shirt, we applauded. A rustle of concert tickets was produced for Bowie to sign.
'What, do you want your money back?' he teased us. 'I'll sign it, it's cheaper that way.'
Refreshed in a white T-shirt, the sweat towelled out of his blond hair, Bowie was full of charm - his humour thoroughly British and self-deprecating.
A contest winner brought a vinyl, Bowie sighed, 'Haven't seen that in a while, makes me wish I was 50 again.'
Someone asked for a hug and got it. Another turned her back on Bowie so he could put his mark on her T-shirt.
When it was my turn, I quietly said to him: 'Er, you will never in a million years remember me, but we did this movie together.'
I produced a DVD copy of Everybody Loves Sunshine and his eyes widened in disbelief. 'You! You were that gangster guy! ... Adam? Antony? ... Andrew! How good to see you again!
'That briefcase was empty, mate!' he bellowed.
As he gave me his autograph, he winked and said: 'Still carry your gun?', to which I wittily replied, 'Hah?'.
And with that, he was whisked off and he was out of my life again.
THE REVIEW - Reality Tour, Indoor stadium, March 4, 2004
The last time I saw David Bowie in concert was 20 years ago in Singapore during his Serious Moonlight tour.
I had to leave three-quarter way through the gig because I had an economics test the next morning.
I failed the test.
But Bowie was back yesterday to give me another chance.
And I was determined to stay for the entire concert, even though I had a 6am start at work the next day.
After all, this man was a living legend.
PHOTO:ST FILE
And you could tell by the hordes of people streaming into the Singapore Indoor Stadium that he was an idol to legions of mostly 'ang moh' aunties and uncles.
Some of whom had even brought their kids along.
The concert started exactly an hour late - as expected of a mega star like Bowie.
As he and his band entered the stage, framed by four enormous screens, the crowd went wild.
Dressed in skin-tight black jeans and black jacket over a black T-shirt, Bowie was the epitome of cool without even trying.
He launched into Rebel Rebel and the crowd roared.
People, still dressed in their work attire, started singing and dancing like it was an after-office-hours karaoke session.
At the end of the song, Bowie yelled: 'Singapore, you crazy mothers!'
I presume he wasn't just addressing the aunties.
But even he acknowledged the age factor when he peered into the crowd and remarked: 'Oh yes, I remember the '60s and I know I'm not alone tonight'.
With that he followed up with another of his early hits, Fame.
More singing and dancing from the crowd followed, which prompted him to ask at the end of the song: 'Is singing along allowed?'.
It was a reference to his last concert here where the crowd control by the authorities was somewhat over-zealous and he had been banned from performing certain songs because of their 'controversial' subject matter. 
CONTROVERSIAL SONG 
Following that, he belted out China Girl - one of the then 'controversial' songs - to the delight of the crowd.
Bowie came across warm and friendly this time, engaging the crowd with breezy banter.
There was a display of humility and humour from the rock god, a pop icon and the husband to Iman - one of the most stunningly beautiful women in the world.
And boy, did he rock the house!
PHOTO:ST FILE
But I didn't take much notice of the crowd as I was too busy being a dancing uncle myself.
After another crowd-pleaser, Changes, he and his band disappeared off-stage.
But they bounded back on again to a rousing encore for Suffragette City.
The concert ended with Ziggy Stardust and not Let's Dance as I had hoped.
Towards the end of the concert, something went wrong with the giant screens upstage. The one on the far right went blank and what was obviously supposed to spell 'B-O-W-I-E' in giant letters. But only 'B-O-W' appeared.
But it was just as well, since Bowie was, well, taking his 'bow' then. 
I feel like we know each other. There's something about this part of the world... Maybe it's the drugs. Just kidding! Don't do drugs. They'll kill you, and if they don't, they'll kill your friends, and then you might as well be dead, am I right?

- Bowie to the crowd at the Indoor Stadium