Argentina top group with 3-2 win over Nigeria
Superstar Lionel Messi, 27, scored twice to help Argentina to beat Nigeria 3-2 in a pulsating Group F match on Thursday morning (June 26).
Former world player of the year Messi brings his goal tally in this World Cup to four goals in three games. 
"Messi is from another planet," said Nigeria's coach Stephen Keshi after the match. 
Considering that Messi scored two goals from just four attempts, one can see why he said that.
Messi put in his first goal after Angel Di Maria's shot deflected off the post in the third minute of the game.
Nigeria responded almost immediately with a goal of their own when Ahmed Musa, 27, got the ball from Michel Babatunde, cut into the Argentina penalty area and curled the ball into the net.
While Nigeria were dangerous with their counterattacking play, it was Argentina who went one goal up just before both teams went into the break courtesy of another Messi special, this time from a free kick.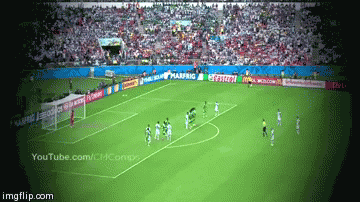 Nigeria leveled the scores when Musa pounced on disastrous mistake by the Argentinean defence to side foot a shot into the goal in the 47th minute.
The Argentinean supporters found their voice again when 24-year-old Argentinean defender Marcos Rojo used his knee to poke the ball into the net for his first ever international goal. 
With the result this morning, Argentina top Group F with a perfect nine points and Nigeria also moves on to the round of 16 because Iran lost against the battling Bosnia and Herzegovina in the other Group F match.
Source: Reuters, Xinhua