FIFA angered by claims that World Cup refs are too lenient
FIFA angrily hit back Monday at suggestions referees had been told not to give red and yellow cards in order to provide a more entertaining World Cup.
Referees are under scrutiny after Brazil's bruising quarter-final with Colombia, where star striker Neymar suffered a tournament-ending injury after a match which saw several wild tackles failed to be punished by a caution.
The failure of Spanish referee Carlos Velasco Carballo to issue a yellow card until more than 40 fouls had been committed has been sharply criticised.
The steep fall in yellow cards issued at the World Cup this year compared to previous years has prompted many commentators to question whether FIFA had issued guidelines to referees to let play flow.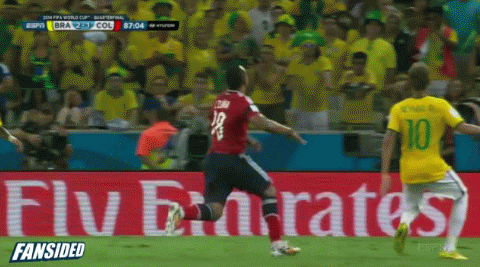 Colombia's Zuniga fouls Brazil's Neymar during their World Cup quarter-final match. Gif: Fansided
'Unacceptable'
The German newspaper Bild Zeitung reported that FIFA referees chief Massimo Busacca had told officials to limit cards in order to improve the spectacle.
But FIFA's chief spokesman Walter De Gregorio angrily took issue with the report on Monday, branding it as "unacceptable". 
"(The story) that there is a secret plan from FIFA telling the referees not to sanction with yellow or red cards in order to have more entertainment or television shares," De Gregorio said.
"In other words that FIFA is risking and tolerating that players like Neymar and others are injured. This is just unacceptable."
Uruguay's midfielder Cristian Rodriguez (C) is fouled during the Round of 16 football match between Colombia and Uruguay on June 28, 2014. PHOTO: AFP
So far 168 yellow cards have been issued in 60 matches, an average of 2.8 per match. That contrasts with an average of 3.8 per match in 2010, and 4.8 per game in 2006.
De Gregorio said he accepted that some World Cup referees may have erred.
"This is part of the game and we accept that," he said. "But what we can't accept is the question on an ethical level, that there is a hidden plan from FIFA.
"This goes into the core business - protecting the main actors, the players, it's the most important thing we have to do at FIFA," De Gregorio said.
"We have to protect the players. If Neymar isn't playing the semi-final or the final it's not good for us too."
Meanwhile, FIFA have cleared Colombian defender Juan Camilo Zuniga of any wrongdoing in his challenge against Neymar. 
Source: AFP