Good guy James Rodriguez
James Rodriguez is having a heck of a month, isn't he?
He won the Golden Boot at this year's recently concluded World Cup - his goal against Uruguay was voted the best in the tournament  and on Tuesday (July 22) - and he was unveiled as Real Madrid's newest Galactico ​where he showed that he is also nice guy.
During his official presentation, Rodriguez was walking around the pitch of Real Madrid's stadium, Santiago Bernabeu, a fan invaded the pitch to hug the 23-year-old wonder boy.
The security personnel quickly tackled him and brought him to the floor.
It looked like the pitch invader was basically going to have a bad day in some dimly lighted back office of the stadium, until of course Rodriguez stepped in to calm things down.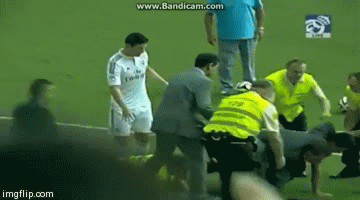 He ushered the fella back to the stands and Rodriguez even gave him a ball for his troubles.
What a nice guy.
Is there nothing that Rodriguez can do? Like perhaps, whisper to grasshoppers?

Photo: Reuters
Oh right. 
Source: YouTube.