Patrice Evra bids Man United goodbye
Patrice Evra and Manchester United have parted ways.
After nine seasons at the English football club, the 33-year-old will ply his trade with Italian club Juventus next season.
The move, announced on Monday night (July 21), cost the recently-crowned Italian champions £1.2 million (S$2.5 million).
The Senegalese-born Frenchman's new employer is currently undergoing a period of uncertainty with manager Antonio Conte stepping down and Massimiliano Allegri ( who was sacked from AC Milan in January 2014) taking the helm. 
Evra played 379 times for the Red Devils, winning five English Premier league titles at Old Trafford, plus the Champions League in 2008.
Never one to shy away from the spotlight, he has provided a lengthy highlights reel for fans of United.
Here are some memorable moments:
1) Pranking the Gaffer
As Sir Alex Ferguson and Manchester United anxiously awaited the final whistle at Blackburn Rovers in May 2011, Evra decided that Ferguson lacked a pair of bunny ears.
So he duly added some.
Smile, you're on camera!
Winning the premier league title that year was probably the only reason why he was not banished to ball-boy duties the next season.
2) Goals
According to the Manchester United website, Evra scored 10 goals for them - not bad for a left back. 
His first came against Everton in November 2006.
Manchester United won that game 3-0.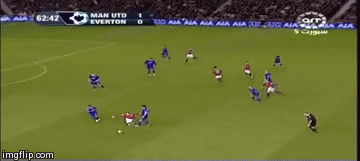 His last goal was against Bayern Munich in the Champions League quarter final game in April this year.
Unfortunately, that thunder-blaster of a goal was not enough to secure a win as Bayern rallied and won 3-1.
The Red Devils also endured a horrendous season as they finished seventh and failed to qualify for any European competition in the upcoming season.
3) Evra and Suarez in a tree
His time at Old Trafford was not without controversy.
Evra claimed that Suarez racially abused him in United's 1-1 draw with Liverpool in October 2011.
Suarez was later found guilty of racial abuse by an "independent regulatory commission" that England's Football Association set up. 
In 2013, Suarez was charged for biting the arm of Branislav Ivanovic's arm in a Premier League game. Guess who was on hand to make fun of the situation?
That's right, none other than good ol' Evra.
A fan threw a prop arm onto the field as United celebrated their 20th league title in April 2013.
Evra duly obliged by pretending to take a bite out of it.
Oh you French joker.
With his latest move, Evra looks set to open a new chapter in his life.
Perhaps fans here will get to see him when Juventus comes to Singapore on August 16. Fingers crossed.
Source:  Reuters, manutd.com, The Guardian