Remember the name: Guillermo Ochoa
He was the Great Wall that stood between the Brazilians and the goal in this morning's game in Fortaleza, Brazil.
The 28-year-old goalkeeper produced a superlative performance to deny host Brazil another win by producing save after save.
Guillermo Ochoa's flying full body dive to deny superstar Neymar's header in the 28th min was the pick of the bunch.
The one-man Great Wall is currently looking for a club after leaving his previous club AC Ajaccio after they were relegated from the French Ligue 1.
 After this morning's performance, we have a feeling that he won't be waiting long for an interested suitor, considering that he is capable of pulling off a save like this:
And this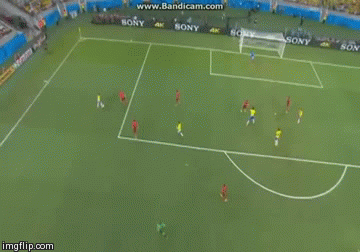 Needless to say Twitter users were quick to pay tribute to the man.
Ochoa as the Wall.
Ochoa as the one.
Thanks to his heroics, the Mexicans are now level on points with Brazil in Group A.
Mexico will face Croatia next Tuesday (June 24) while Brazil will face Cameroon on the same day.
Source: YouTube, AFP, Twitter