The Spanish goodbye
The Spanish fat lady has sung, and she has sung loud.
Reigning World and European Champions Spain crashed out of the World Cup after their second lost in a row, this time to minnows Chile.
No eulogies can be written of how "unlucky" Spain were with injuries or near misses, they were simply poor.
Spanish goalkeeper Iker Casillas conceded only two goals in the whole of the 2010 tournament. In contrast, he has conceded seven goals in only two games in this tournament.
There were calls for Casillas to be dropped from the first team after his disastrous showing in the first match but coach Vincente Del Bosque persevered with him, only to be rewarded with another bad showing by the 33-year-old.
Saint Iker (his nickname), allowed Chilean Eduardo Vargas to skip around him for the Chileans' first goal in the 20th minute.
Casillas again played a role in Chile's second goal by unconvincingly punching a Alexis Sanchez free kick to the feet of Charles Aránguiz,who made no mistake by by toe-poking the ball past a wrongfooted Casillas.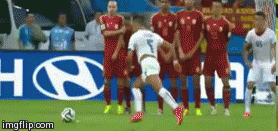 The unconvincing punch
The goal
Del Bosque made several changes to the squad that lost against Netherlands, notably dropping pass master Xavi and defender Pique in favour of Pedro and Javi Martinez respectively, but the Chileans were simply to quicker and sharper for Spain.
"We played too shy and did not show courage today, and Chile's aggressive style made much trouble for us," Bosque said after the match.
Chile will next face Netherlands on Tuesday (June 24). Both teams have qualified for the second round.
Spain will take on the plucky Australians on the same day.
Source: Xinhua, YouTube