Top goals by Champions League's oldest goalscorer, Francesco Totti
Francesco Totti, 38, who just became the oldest goalscorer in the Champions League, ​is a Roma legend.
The first line in his official biography on the club's website is proof of just how highly the Italian club views their captain.
It might read Totti but it's pronounced Roma
                                                                                - AS Roma
Having made 460 appearances for Roma, he has long since entered into Roma's record books for being the club's top scorer both in Serie A and in Europe.
Now the famously one-club-man has earned himself another record when he scored another beauty in Roma's Champions League game against Manchester City on Wednesday morning (Oct 1).
Beats Ryan Giggs's record
He edged out the previous record holder, Manchester United's Ryan Giggs, when he chipped City goalkeeper Joe Hart  to score Roma's equalising goal.
To celebrate the living legend's latest achievement, we bring you the best goals that he has scored throughout his 21 years and counting in the Roma kit.
I. They say you never forget your first and we're pretty sure Totti still remembers his first goal against Foggia in 1994.
II. This beautifully chipped goal against Inter Milan in 2005
III. In fact, he has scored a number of beautifully chipped goals. This is one is against city rivals Lazio is the Roma's 5-1 drubbing of Lazio in 2002
IV. Another chip, this time after waltzing through the Sampdoria defence.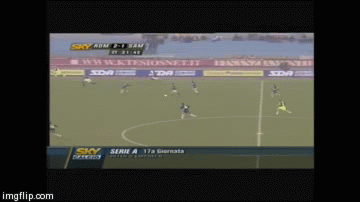 V. Totti seems to like scoring against Sampdoria - he scored this fantastic volley in 2006. ​
VI. He has more than chips in his reportoire, he pulled this thunder blaster against Juventus.​
VII. But of course, we cannot end the list without giving you the goal that made him the oldest goal scorer in Champions League history.
      His delicate chip (of course) against Manchester City for the equaliser. ​
Source: YouTube, Vine, AS Roma