US World Cup win over Ghana named 'Best Moment' at ESPYs
The USA football soccer team won Best Moment at the ESPYs - ESPN's annual sports excellence awards - on Wednesday night. 
Captain for the team Clint Dempsey led his team to onstage to collect the award, reported Sporting News.
They were awarded for their 2-1 win over Ghana in the the group stages of the World Cup on June 16.
The Americans of course won the match in the 86th minute via a John Brooks header.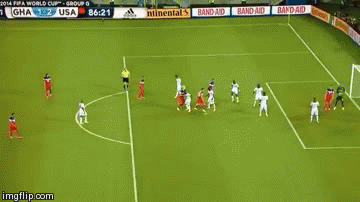 USA went on to qualify for the last 16 where they were defeated by Belgium.
Other notable winners of the ESPYS were:
Best International Athlete: Cristiano Ronaldo, who was also awarded the FIFA's Ballon d'Or as World Player of the Year this past January. 
Best Male Tennis Player: Rafael Nadal, who racked up a total of 10 ATP tournament wins, including both the French and US Opens, ending the year with the No. 1 ranking
Best Female Tennis Player: Maria Sharapova, who won the 2014 French Open crown. It was her third consecutive French final and her second title.

Source: Sporting News